Source: The Great Wall Network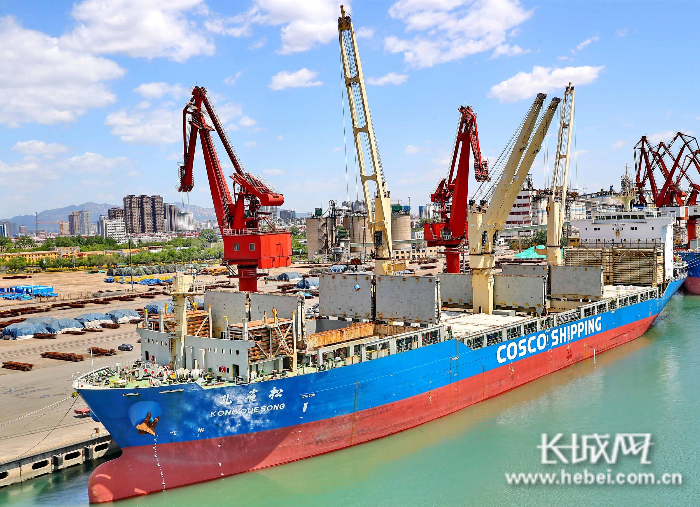 The "Kongquesong" ship docks at the No. 21 berth in Qinhuangdao Port Grocery Company for the shipment of Padma bridge parts. Photo by Cao Jianxiong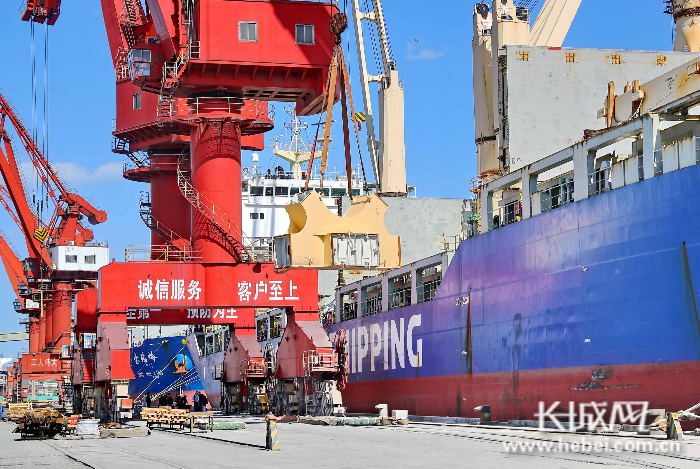 The "Kongquesong" ship docks at the No. 21 berth in Qinhuangdao Port Grocery Company for the shipment of Padma bridge parts. Photo by Cao Jianxiong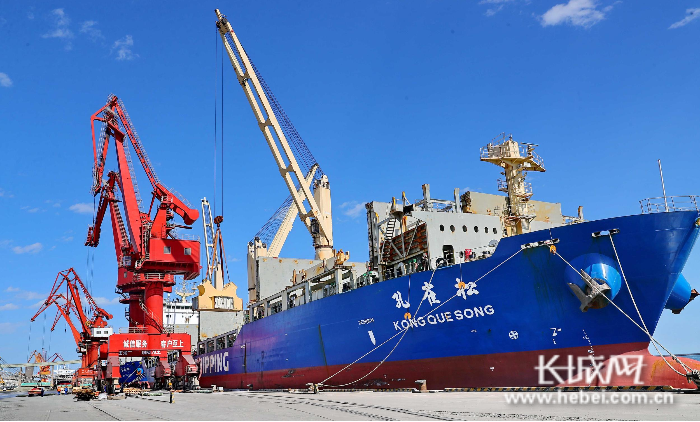 The "Kongquesong" ship docks at the No. 21 berth in Qinhuangdao Port Grocery Company for the shipment of Padma bridge parts. Photo by Cao Jianxiong
Qinhuangdao(The Great Wall Network/reporter Zu Di, Correspondent Cao Jianxiong)--On May 12, the last batch of 5,500 tons of bridge parts was transported by the "Kongquesong" ship from the grocery terminal of Qinhuangdao Port to the port of Mongla in Bangladesh.

Qinhuangdao Port supports the Belt and Road Initiative by offering quality service for the shipment of Padma bridge parts. Since the delivery of the first batch of 152 bridge components on July 4, 2016, Qinhuangdao Port has completed the delivery of 108,200 tons of bridge parts with 41 batches of 34 ships in the past four years.

The "Padma Bridge" project is one of the cooperation projects between China and Bangladesh on the Belt and Road Initiative. The bridge rods were manufactured in the workshop of CSIC Shanhaiguan Shipbuilding Co., Ltd., and an assembly yard was build in Bangladesh to produce rail longitudinal beams, and assemble girders and segments. In the past four years, Qinhuangdao Port has done well in cargo gathering port, horizontal transportation, and shipping process, cooperated with the manufacturers to solve the problems encountered in the shipping process especially in the early shipping operations, developed a scientific and reasonable loading and unloading process, and conducted cargo turnover test to deal with the problem on incompatibility of the cargo arrival at the port and the requirements of the shipping operation, to ensure the safety and quality of cargo shipment.

International Channel
http://www.qhdnews.com/en/index/
International Channel Mobile Client
http://www.qhdnews.com/en/mobile
Chinese manuscript