Source: The Great Wall Network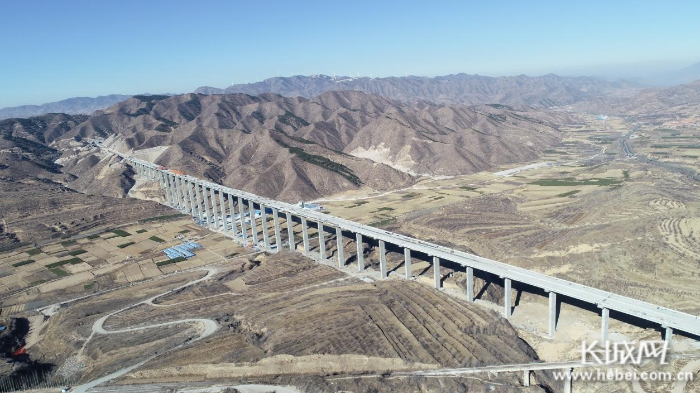 Newly built Shimen Grand Bridge. Photo by correspondent
Qinhuangdao (The Great Wall Network/reporter Zu Di, correspondent Qian Banglei)--Recently, the list of the first batch of the 14th China Gold Medal for Steel Structure(2019) was announced, and the Shimen Bridge built by China Railway Shanhaiguan Bridge Group was among them.

The China Gold Medal for Steel Structure is a state-level high-quality engineering award in the field of construction approved by the State Council, and the highest quality management award in the field of steel structure in China. It is selected once a year from the outstanding steel structure projects undertaken by enterprises engaged in the construction and installation of construction steel structures in China.

Shimen Grand Bridge is hailed as the "No. 1 Bridge of Taihang Expressway". It is the largest, tallest, and longest bridge in Taihangshan Expressway. It is a key control project for the entire line, with two-way four lanes. The full length of the bridge is about 1,839 meters, and the span of the bridge is large. The total weight of the steel box girder manufactured by CRSBG is 8,985 tons, and the single-piece steel box girder weighs 75 tons.

During the construction of Shimen Grand Bridge, CRSBG achieved fruitful technological and management innovations with independent technology, including 2 national utility model patents, 5 provincial and ministerial-level construction methods, and 2 provincial science and technology progress awards; 6 process technologies have reached the leading level in China. Many papers were published including the Comprehensive Application of BIM Technology in the Shimen Bridge Project of Jingwei Section of Taihangshan Expressway that has won Beijing BIM Achievement award.

Shimen Grand Bridge will further promote the coordinated development of Beijing-Tianjin-Hebei integration, and the economic development of the Taihangshan revolutionary base area.

International Channel
http://www.qhdnews.com/en/index/
International Channel Mobile Client
http://www.qhdnews.com/en/mobile
Chinese manuscript