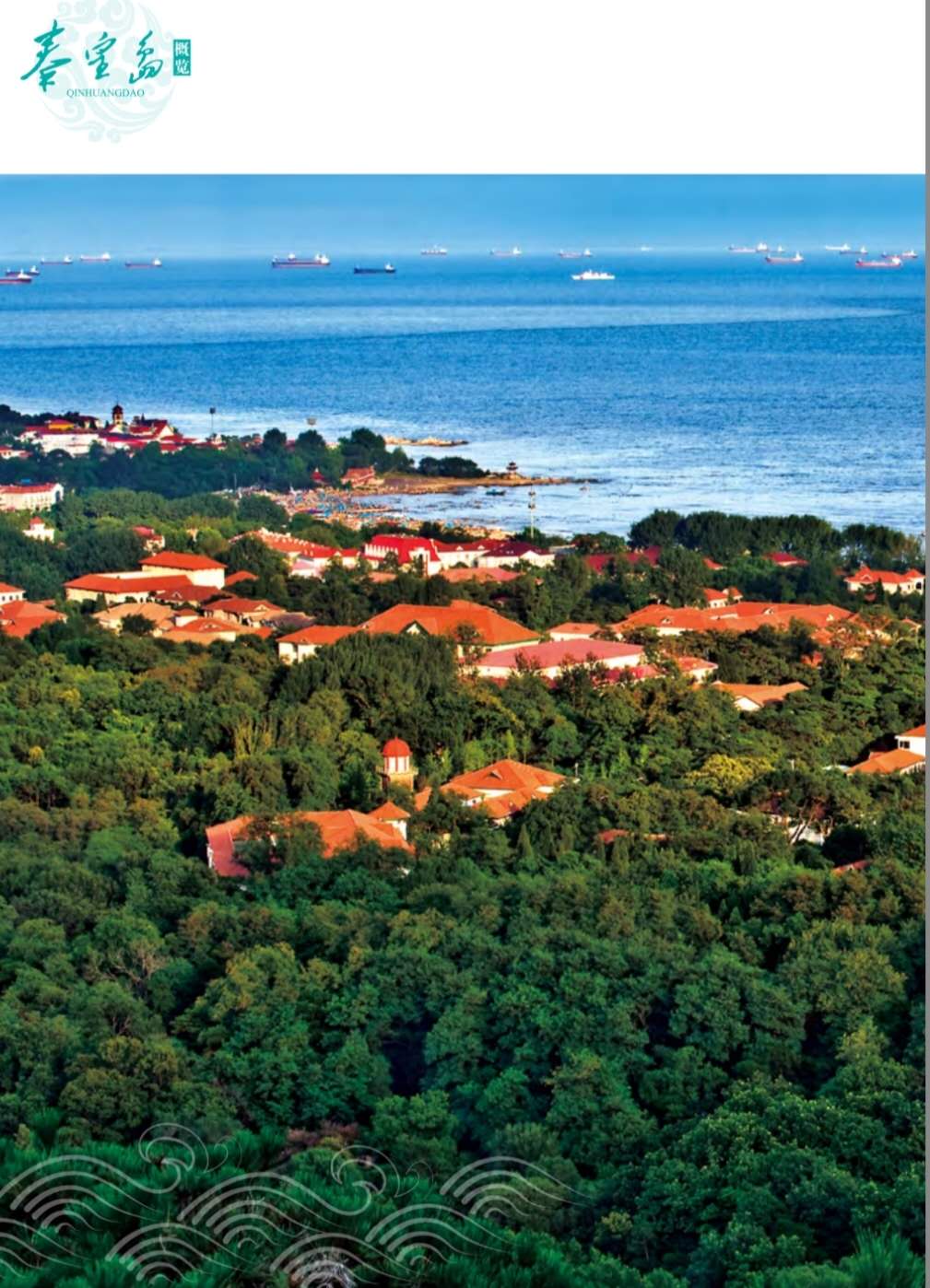 A Beautiful Port City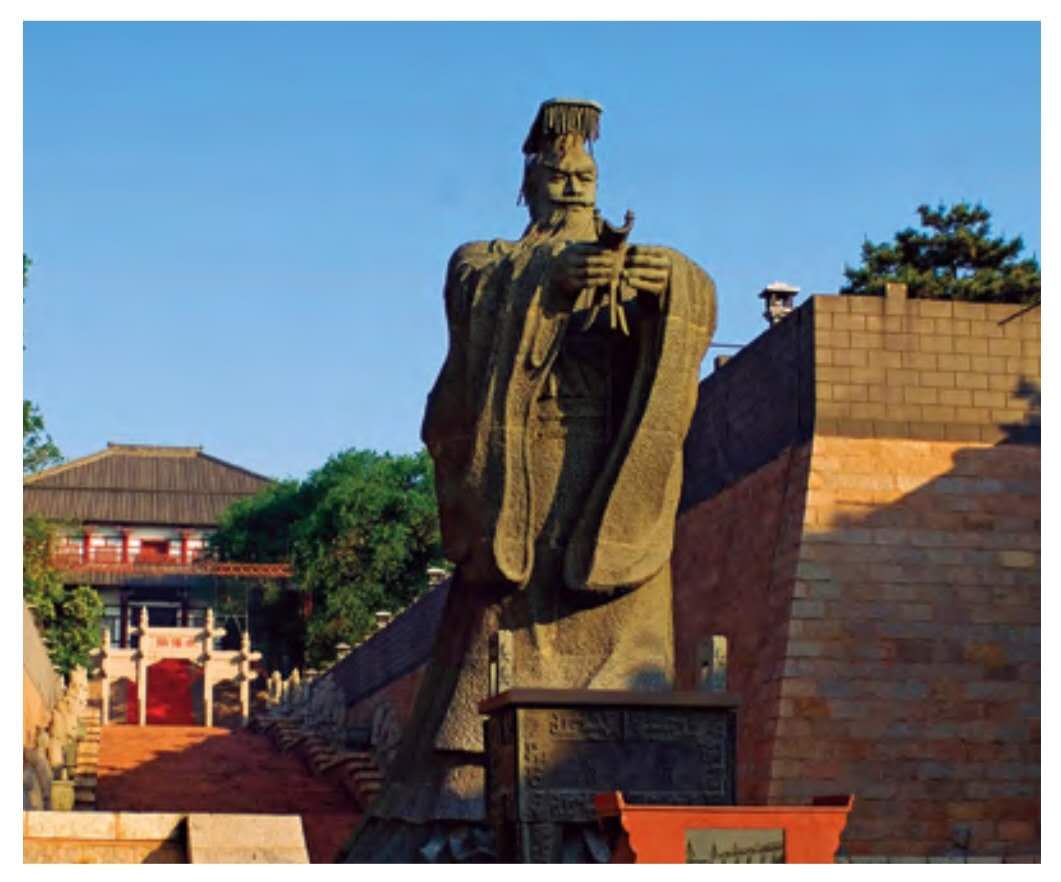 Origin of Qinhuangdao
In 215 BC, Qin Shi Huang, the First Emperor in Chinese history, came here on his tour of the east, and sent people to the sea in search of medicine for immortality. Here he also engraved his "Poetry of Jieshimen". That is how Qinhuangdao got its name.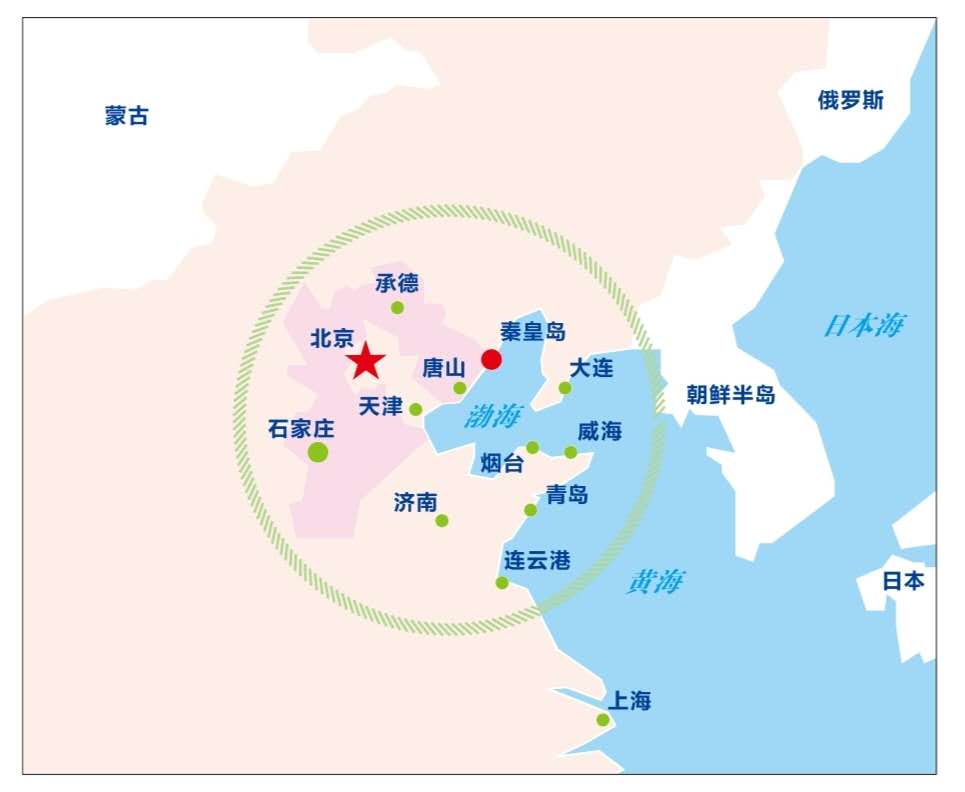 Geographic Location
Located in the northeast of Hebei Province, with Liaoning to the east, Beijing and Tianjin to the west, Mt. Yanshan to the north and the Bohai Sea to the south, Qinhuangdao is where two economic areas of Northeast China and North China meet. It's also the center of the Circum-Bohai-Sea Economic Circle. 280 km away from Beijing, and 220 km from Tianjin. It is a national historical and cultural city, and the sole "zero-distance" coastal city in Hebei Province, known as the "Great Wall Coastal Park" and "Back Garden of Beijing and Tianjin". It is a bright pearl on the crown of the Beijing-Tianjin-Hebei Economic Circle.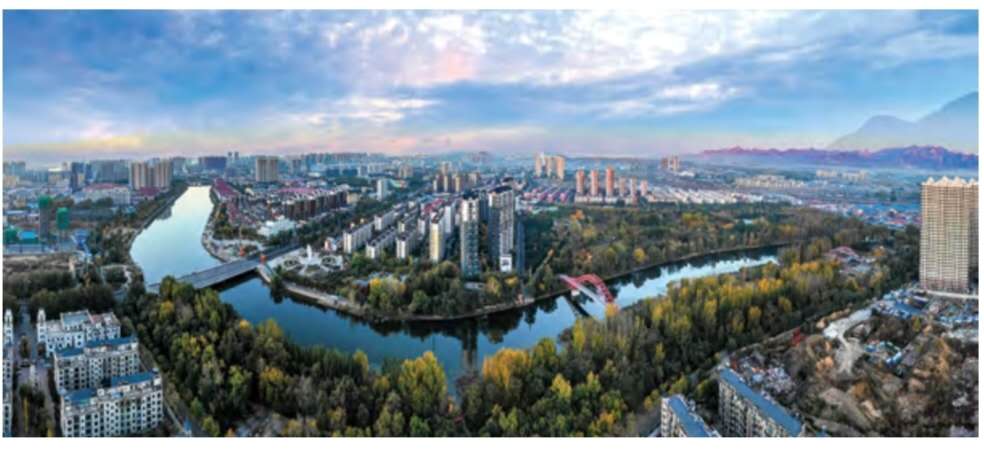 Administration Divisions and Population
Qinhuangdao consists of four urban districts—Haigang, Beidaihe, Shanhaiguan, and Funing, as well as three counties—Changli, Lulong, Qinglong Manchu Autonomous County. In addition, Qinhuangdao Economic & Technological Development Zone and Beidaihe New District are under its jurisdiction. The land area is 7,802 square kilometers; the sea area is 1,805 square kilometers; the coastline is 162.7 kilometers long; and the population is 3,314,200. There are 45 ethnic groups including Han, Manchu, Hui, Korean, Mongolian, and Zhuang, among others. The minority population mainly live in Qinglong Manchu Autonomous County. Xihenan Village in Funing District is the only Korean ethnic community in Hebei Province.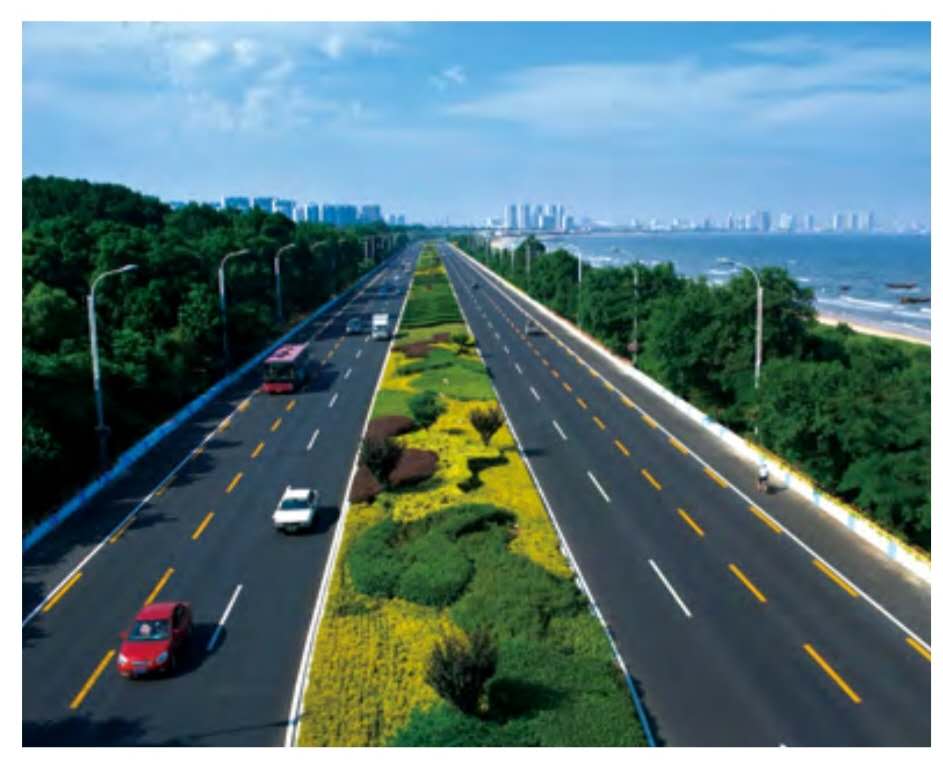 Transportation
As the main hub port of China's North-to-South Coal Transportation, the shipping business of Qinhuangdao Port reaches more than 130 countries and regions, and has opened international routes to Incheon in South Korea, Kanto in Japan, Davao in Philippines, and the International Ship-rail Container Route of Korea-China-Mongolia. The forthcoming international tourist port will achieve the transformation and development of a century-old commercial port into multiple uses. Beidaihe International Airport also has a number of domestic routes, such as Shanghai, Shenzhen, Harbin, and Nanjing. A "four vertical and seven horizontal" road transportation network with 6 expressways, 5 national roads and 25 provincial roads as the main structure has been formed. By the end of 2019, the highway mileage has reached 8,814 kilometers, including 552 kilometers of national roads and 739 kilometers of provincial roads, a total of 1,291 kilometers; 7,523 kilometers of rural roads, and a road density of 112.83 kilometers per hundred square kilometers.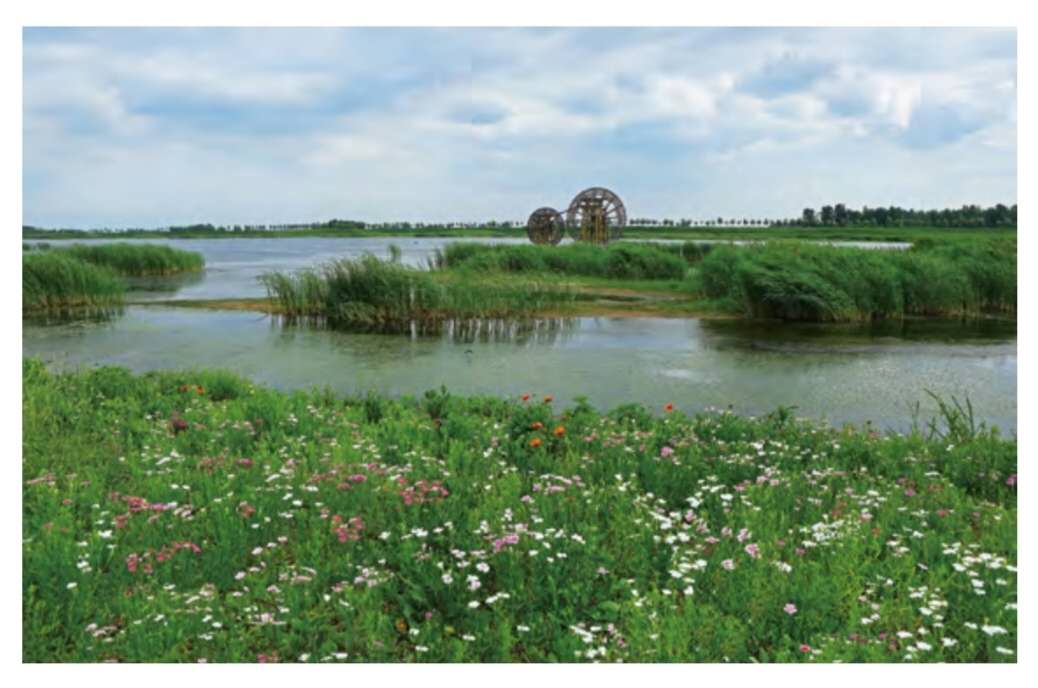 Climate
The climate of Qinhuangdao is temperate and semi-humid continental monsoon. Due to the influence of the ocean, the spring is less rainy and dry, the summer is warm without intense heat, the autumn is cool and sunny, and the winter is long without severe cold. The average annual temperature is 11.1 ° C, with an average maximum of 15.9 ° C, an average minimum of 7.0 ° C, and an average annual precipitation of 602.1 mm.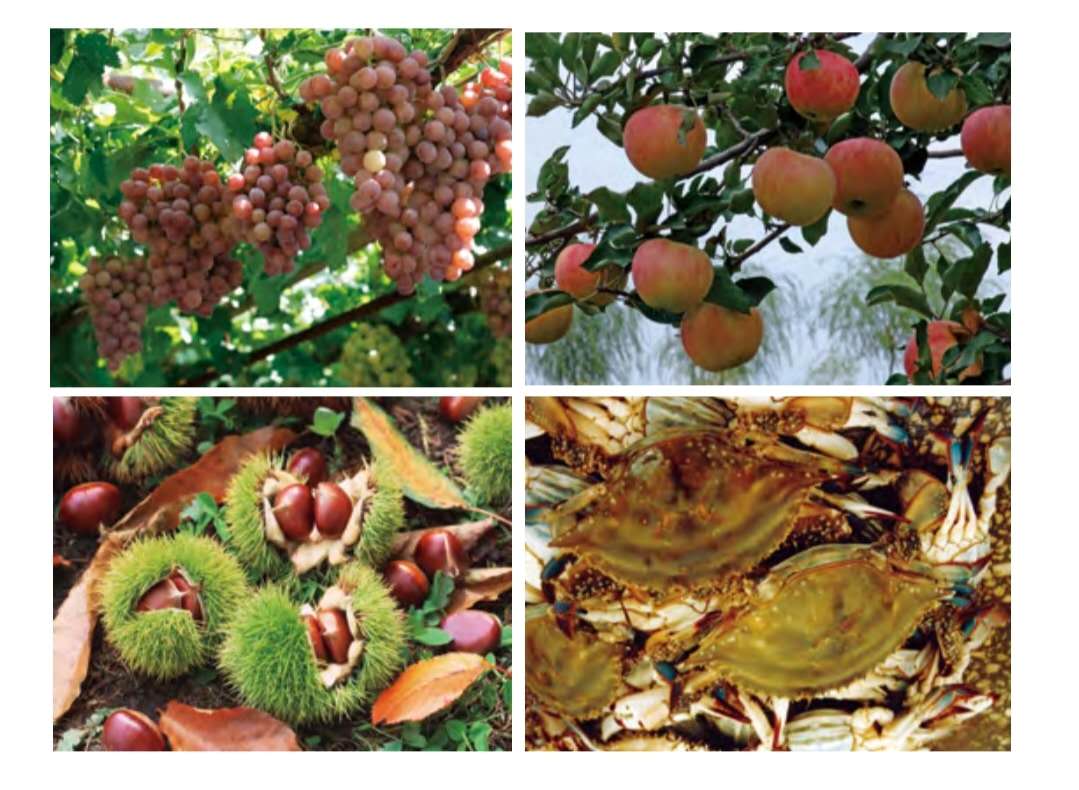 Products and Resources
The mountains and the sea are productive in Qinhuangdao. Lulong County is called the "Hometown of Sweet Potatoes in China", the "Wine Grape Base County in China", and the "Hometown of Walnuts in China". Changli County is known as the "Hometown of Grapes in China"; Qinglong Manchu Autonomous County as the "Hometown of Apples in China" , Shanhaiguan District as the "Hometown of Cherries in China", and Chapeng Town of Funing District as the "Hometown of Tomatoes in China". Local specialties that are well-known here and abroad include Jingdong chestnut, Shimen walnuts, grapes, peaches, wild kiwi, and bitter almonds. The local wild vegetables and precious Chinese medical herbs, such as daylily, agaric, aquilinum, scutellaria, platycodon, milkwort, and atractylodes, are also renowned. Seafood is abundant, including shrimp, squid, meretrix, clams, portunus trituberculatus, red clip, red sea crab, mantis shrimp, metapenaeus ensis, and Penaeus japonicus. The "Bohai Prawn" is one of the "Eight treasures of seafood" and enjoys a high reputation in the international market. Fifty-six kinds of useful mineral resources have been found in Qinhuangdao. The average annual water resource is 1.571 billion cubic meters, making it one of the cities with the most abundant water resources in northern China.
Foreign-related Institutions
The Infornmation Office of Qinhuangdao Municipal People's Government
Tel: (0335) 3222217
The Overseas Chinese Affairs Office of Qinhuangdao Municipal People's Government
Tel: (0335)3652301
The Taiwan Affairs Office of Qinhuangdao Municipal People's Government
Tel: (0335) 3220577
Qinhuangdao Foreign Affairs and Commerce Bureau
Tel: (0335) 3433808
Qinhuangdao Tourism, Culture, Radio and Television Bureau
Tel: (0335)3661010
The Exit-Entry Administration Office of Qinhuangdao Municipal Public Security Bureau
Tel: (0335) 3056506
The Management Committee of Qinhuangdao Economic and Technological Development Zone
Tel: (0335) 3296643
The Management Committee of Beidaihe New District
Tel: (0335) 3590000
Qinhuangdao Branch of China Council for the Promotion of International Trade
Tel: (0335) 5918966
Qinhuangdao Returned Overseas Chinese Federation
Tel: (0335) 3637340
Qinhuangdao Customs
Tel: (0335) 8512195
Beidaihe Customs
Tel: (0335) 5308799

For more information about Qinhuangdao, please click on:
Qinhuangdao of China (http://www.qhd.gov.cn/)
Qinhuangdao News Net (http://www.qhdnews.com/)
Qinhuangdao Media Net (www.qhdcm.com)
Qinhuangdao Civilization Net (qhd . wenming . cn)
Qinhuangdao Economic and Technological Development Zone (www.qetdz.com.cn)
China · Beidaihe New District (www.bdhxq . gov . cn)
Qinhuangdao International Channel (www.qhdnews.com/en/index)