Source: The Great Wall Network

Recently, a 60-year-old fisherman from Qinhuangdao City had a heart attack while working at sea. The Qinhuangdao Maritime Search and Rescue Center urgently coordinated nearby ships for a cure, and finally saved the fisherman.

At 12:20 on October 9, Qinhuangdao Maritime Search and Rescue Center received a call for help that a 60-year-old fisherman had a heart attack on a fishing boat 50 nautical miles (about 90 kilometers) away from the coast, where is out of the high-frequency communication range, they can only communicate through the nearby ships as a relay that is how the emergency call got in. Once the communication is interrupted, the fisherman would be in danger.

The Command Center of Qinhuangdao Maritime Safety Administration took action immediately on receiving the call, and made plans to save him after getting the location of the fishing boat, the needs of the patient, the distribution of rescue forces around, and the sea conditions.

Due to the far distance, the age of the patient, the time for sending helicopters or rescue boats, and the inconvenient communication, the longer it takes to rescue the patient, the more dangerous it will be.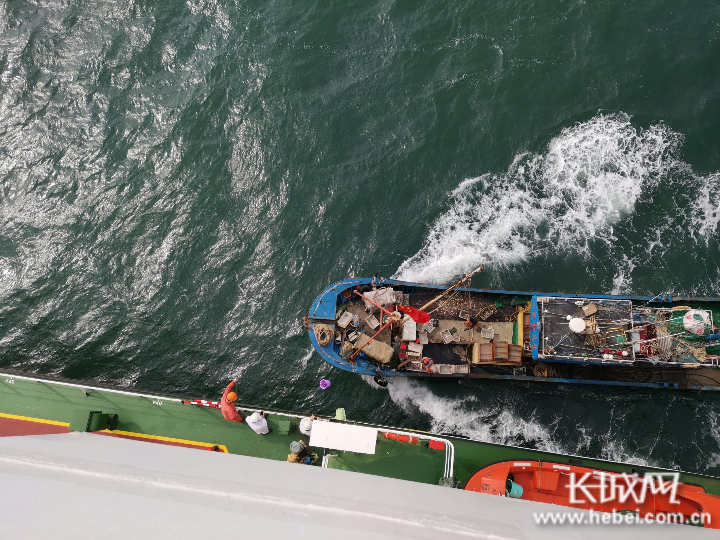 A merchant ship sends the pills to the patient's fishing boat
Considering that the nearby merchant ships may have emergency medicines, the officers decided to seek help for them, and determined "Guangmao" merchant ship as the communication relay and the one to provide medicines after searching for 12 minutes through high-frequency broadcasts. After a brief and effective communication, the search and rescue officers immediately took actions to send the pills to the patient's fishing boat in a timely and reliable manner.
The fisherman got better after taking the medicine, and was sent to the hospital immediately. As of 3:00 pm on Oct 9, the fisherman was out of danger, according to the report.

International Channel
http://www.qhdnews.com/en/index/
International Channel Mobile Client
http://www.qhdnews.com/en/mobile
Chinese manuscript