Source: The Great Wall Network

"Seven construction ships have safely arrived in Cambodia, one month ahead of schedule." On October 26, China Communications Construction Company- First Harbor Engineering Company, China Communications Construction Company- Shipping Company, and Zhenhua Logistics Group sent a banner to thank the Qinhuangdao Maritime Safety Administration for providing high-quality and efficient maritime services to the ships operating abroad.

Take the initiative to help construction ships with floating transportation in advance
"These 7 construction ships go to Cambodia for the construction of the Huadian coal-fired power station wharf project." said Cui Zhongjiu, party secretary of the fifth company of the CCCC-FHEC, adding that the project officially started on September 22, 2020, with the construction period of only 664 days. It takes much time to dispatch the professional construction ships from China, which will delay the project.

In early September, the Qinhuangdao Maritime Safety Administration learned about the difficulty CCCC-FHEC faced, and communicated with them to analyze the characteristics of the stability of semi-submersible vessel operations, study the navigation environment, make plans in the water area definition, schedule, and coordinates based on the weather and sea conditions, choose the route and berth, eliminate possible risks of obstructing navigation, provide appropriate temporary shelters, and put forward proposals for emergency contact mechanism and pollution prevention.

"They treat us as family, sparing no effort to improve emergency safety management and floating operation plan for us." said Wu Di, project director of Zhenhua Logistics Group, who is in charge of the administrative approval of the floating operation of 7 construction ships.

The safety evaluation of these 7 construction ships have been approved by the experts on September 23, two days later the Cambodia's Huadian Coal-fired Power Station wharf project had officially started. With the guidance and help of the Qinhuangdao Maritime Safety Administration, these 3 companies completed the preparation of basic data such as ship technical data, planned route diagrams, shipping schematics, navigation safety assurance plans, etc. more than 20 days in advance, which saved time for construction ship floating transportation and project construction.

Ensure safe construction despite of difficulties
Cambodia's Huadian Coal-fired Power Station Wharf Project is located on the south side of Kampong Son Bay in Cambodia, about 220 kilometers away from Phnom Penh, capital of Cambodia. A 8,000-ton coal unloading berth and a 2,000-ton heavy-weight berth will be built, which is difficult and needs many domestic construction ships.

"This semi-submersible vessel floating operation is the largest floating operation project in Qinhuangdao so far. We have listed it as an annual key service guarantee water project, and carried out targeted assistance." said Zhang Yuan, director of the navigation management office of Qinhuangdao Maritime Safety Administration, adding that the operation duration is long, the number of ships involved and the operation water area is large, which requires safe navigation environment.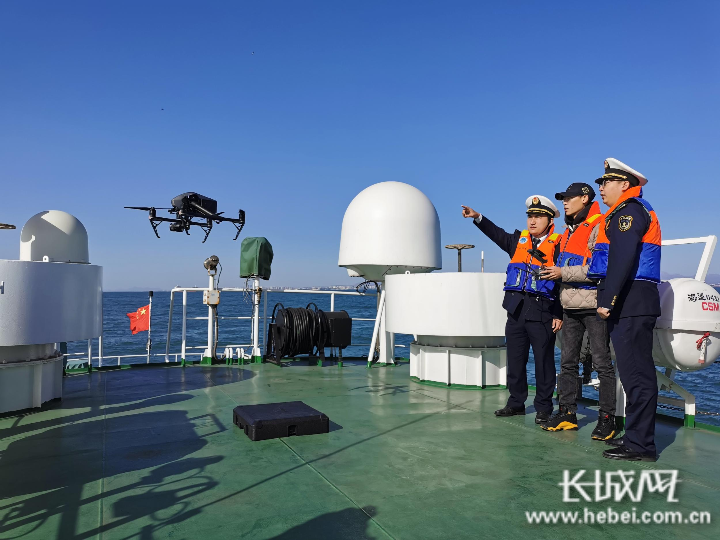 Officers of the maritime department guarantee the safety of water traffic with "sea-air patrol".

Affected by factors such as the number of ships, stability, and self-propelled capacity, the floating operation area is only about 10 miles away from the shore, adjacent to the dense navigable area of Qinhuangdao Port. The Qinhuangdao Maritime Safety Administration reasonably expanded the warning area in response to the characteristics and actual needs of the floating operation, setting it to 1.5 times the area of the estimated water area, and finally delineating a safe operation area of 3.86 square kilometers. They used professional equipment such as drones, sea cruisers, and intelligent transportation organization platforms, to carry out "sea-air patrol" and "electronic patrol" in key water areas such as safe operation areas and dense navigable areas, to scientifically coordinate traffic flows, and urge construction operation units and past ships to strictly implement safe operation requirements.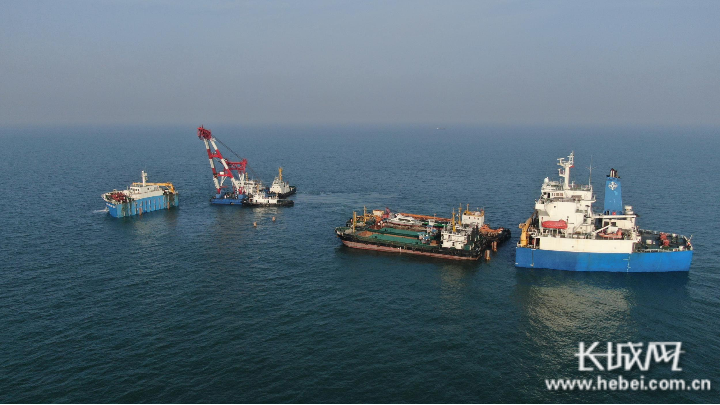 The semi-submersible vessel "Road to Innovation" is conducting floating operation.

"It took 8 ships 53 hours to finish the floating operation from October 6 to 8, in a safe, quick and normative way, we are all satisfied with that." said Cui Zhongjiu, adding that thanks to the help and support of the Qinhuangdao Maritime Safety Administration, the floating operation has become a typical case of the safety operation of the CCCC-FHEC, and it has been made into video for learning and exchange, which will provide reference for the safe construction of other projects.

International Channel
http://www.qhdnews.com/en/index/
International Channel Mobile Client
http://www.qhdnews.com/en/mobile
Chinese manuscript