Source: Beidaihe New District

The signing ceremony of projects of the first quarter of 2021 was held by Qinhuangdao Municipal Government at the Dongjing Road Hotel. Zhu Zhengxue, secretary of Municipal Party Committee, and Ding Wei, deputy secretary of Municipal Party Committee and mayor, attended the ceremony. Liu Yahong, member of Municipal Party Committee Standing Committee, executive deputy mayor, and secretary of Beidaihe New District Working Committee, presided over the ceremony. Tian Linan, deputy director of the Management Committee of Qinhuangdao High-tech Zone and director of the Investment Promotion Bureau of Beidaihe New District, signed the contract on behalf of Beidaihe New District.

A total of 33 projects were signed with the investment of 12.757 billion yuan, and 111.182 billion yuan of external funds were used in the agreement, involving cultural tourism, and life and health sectors.

The Hongxing Cultural Tourism Headquarters Base, Guanchao·Hetang·High-end Hotel, Beidaihe Fumei Health Technology Park, Health Monitoring and Micro-Nano Sensor Industrial Park, and Chiyang Huahai Peony Garden were signed, accounting for 15.2% of the total. The total investment is 2.23 billion yuan, accounting for 17.5% of the total investments. The number of projects ranks third, and the investment amount ranks the second in Qinhuangdao.
Ding Wei, deputy secretary of the municipal party committee and mayor, delivered an important speech. Ding Wei said that the projects are the key to economic development. All counties, districts and relevant departments must adhere to the leadership package system, actively help enterprises and projects to go through the procedures, solve problems, urge the project to start construction as soon as possible, build related supporting facilities, improve various element guarantees, and effectively form a rolling project development pattern of signing, constructing, operating and reserving a batch of projects.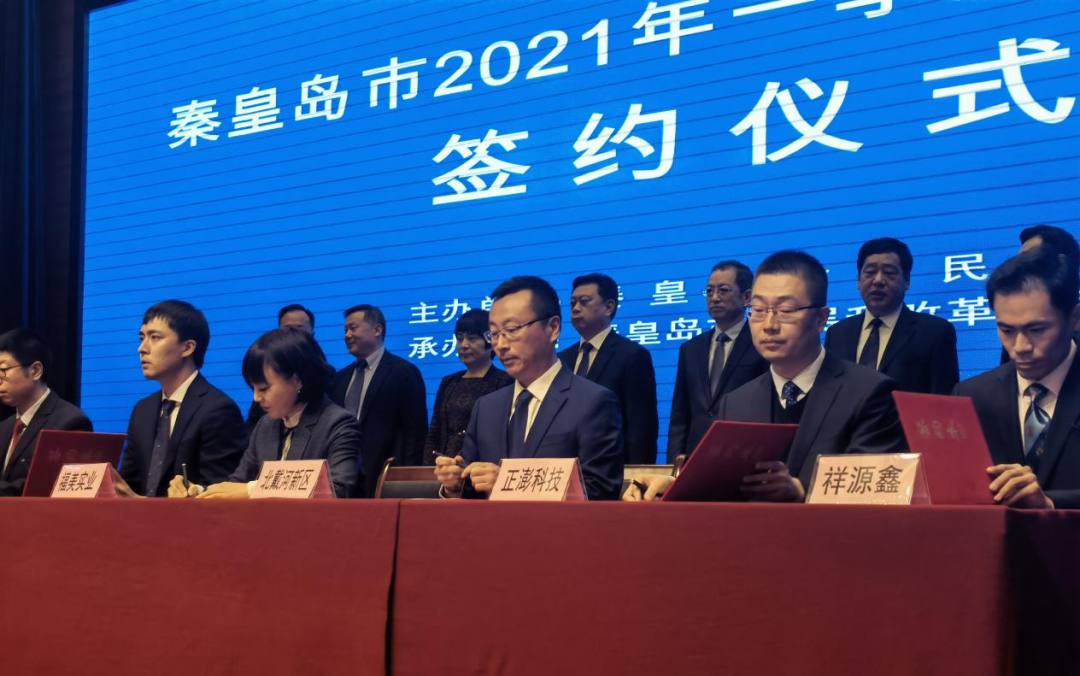 Entrepreneurs who have successfully signed contracts with Beidaihe New District said that Beidaihe New District has policy and ecological advantages, and it is a unique place for developing the life and health industry, entrepreneurship and investment treasure in northern China. Beidaihe New District takes the construction of business environment as a breakthrough point in investment promotion and industrial development, focusing on investment services and highlighting industrial advantages. The contracted projects will also inject new momentum into the construction of Beidaihe Innovation Demonstration Zone for Life and Health Industry, and promote economic and social development of Beidaihe New District.

International Channel
http://www.qhdnews.com/en/index/
International Channel Mobile Client
http://www.qhdnews.com/en/mobile
Chinese manuscript
https://mp.weixin.qq.com/s?__biz=MzA5NjU5OTYyNw==&mid=2652934665&idx=1&sn=0698bca9c0304aef8f6967a8e527d1cf&chksm=8b79992dbc0e103b59620568e294b768f2f73b9c711b8baf1cbc198224437c6de2c00a655454&mpshare=1&scene=1&srcid=0411z69GwEfeHdNmvyz6B616&sharer_sharetime=1618125037915&sharer_shareid=b93ffcf8a837ec41bde0e482d78d1d48&exportkey=AWF6mjdGnlGv9Wi31vvhSR8%3D&pass_ticket=CL9Hw4F5o4ttD%2B6nCCCiSOwE%2BYWKlWwj5ORBlijdqoQWkEYHJxgwJzI%2B%2B173xSC8&wx_header=0#rd