Source: Hebei News Network
Super vegetable greenhouses——middle and high-end vegetable planting of Qinhuangdao Shizhengyuan Ecological Agriculture Co., Ltd.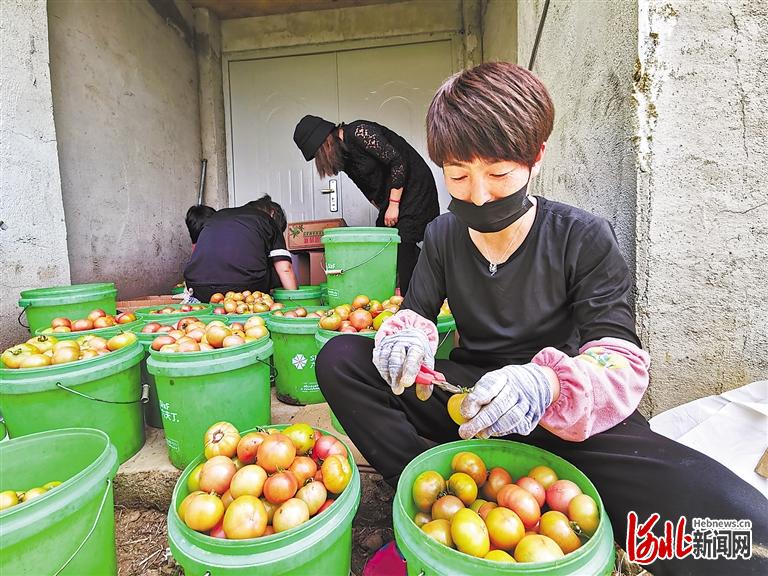 A worker from Qinhuangdao Shizhengyuan Ecological Agriculture Co., Ltd., is sorting tomatoes on March 24. Photo by Shi Yuan/Hebei Daily

Four super vegetable greenhouses attract people's attentions at Liuzhuang Village, Xiazhuang Management Area, Funing District, Qinhuangdao City. Each greenhouse is as high as a 3-storeyed building, more than 10 meters wide, and about 200 meters long. The greenhouses are equipped with smart irrigation and temperature control systems, and 10,000 newly-planted cucumber seedlings stretch as far as you can see in the greenhouses.

These large-scale and high-standard vegetable greenhouses belong to Zhang Hongjun, general manager of Qinhuangdao Shizhengyuan Ecological Agriculture Co., Ltd. He has devoted to vegetable cultivation, transforming marketing model, adjusting development direction, focusing on middle and high-end vegetables, and leading the high-quality development of local agriculture with the construction of modern agricultural park.

• Producing middle and high-end agricultural products

Zhang Hongjun takes care of his cucumber greenhouses all by himself. Although he has been engaged in agricultural planting for only 6 years, he is competent in planting technology and management.

Zhang Hongjun used to do weak current project, expanding his business across North China. He got involved in agriculture in 2012 as a purchasing agent for some sales platforms in Beijing.

Procurement connects production and sales. Zhang Hongjun gained a better understanding of vegetable planting while constantly grasping the market demand, and he came up with the idea of going in for vegetable planting. "Purchasing is passive. It is not easy to find a stable supply with large quantity and good quality. If you want to insure the quality, you have to do the planting yourself."

Zhang Hongjun established the Qinhuangdao Shizhengyuan Ecological Agriculture Co., Ltd. in 2015, and cooperated with farmers in planting.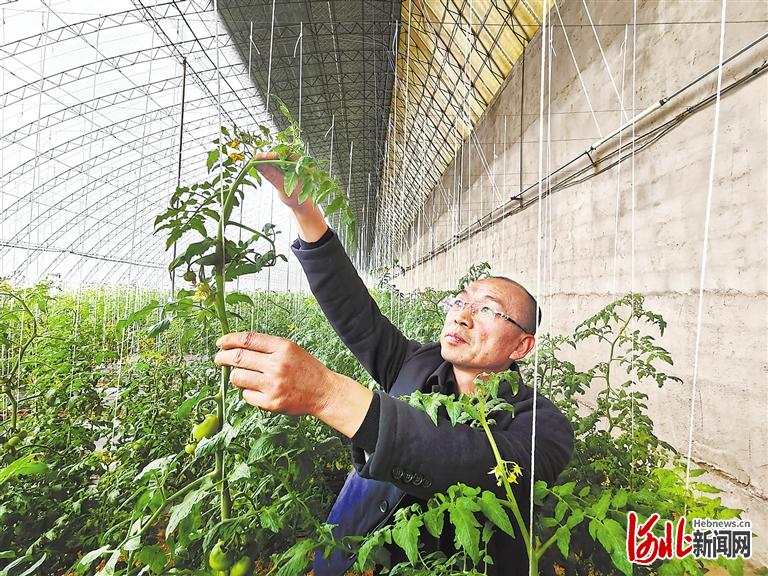 Zhang Hongjun, general manager of Qinhuangdao Shizhengyuan Ecological Agriculture Co., Ltd., is checking the growth of tomatoes in the greenhouse. Photo by Shi Yuan/Hebei Daily

Zhang Hongjun transfers to agriculture. He has to learn something new, including plant physiology, fertilizer science, environmental science, etc. He gained planting technology and management experience in self-study and practice, and finally he became an expert himself.

The new retail model of fresh food has emerged since 2017, and major e-commerce platforms have joined the fresh food market. Zhang Hongjun saw the new opportunity, and he contracted greenhouses for vegetable planting, improving the controllability of products, establishing cooperative relations with large platforms, and developing order agriculture. He supplied the first batch of tomatoes sold by the first box of "Hema Xiansheng" in Beijing.

"Platform competition relies on hits, and hits rely on products." Zhang Hongjun thought that the key to strive for the market share is the supply of large-quantity and standardized products with high performance-price ratio.

He decided to develop high-quality and high-efficiency agriculture, build high-standard greenhouses, and implement agricultural modernization and standardized production, in accordance with the policy of promoting the supply-side structural reform in agriculture.

Funing District strengthened investment promotion in 2020. With the support of the government, Zhang Hongjun transferred the land to build 4 super vegetable greenhouses as an ecological park, and moving towards industrialized development.

• The organic vegetables with the taste of vintage

A greenhouse, covering an area of 10 mu, with the planting area of only 4 mu, and the investment of nearly one million yuan, seems ridiculous to other vegetable farmers, but Zhang Hongjun knows that such greenhouses are the "golden nests" for growing high-quality vegetables.

Walking into the greenhouse, you can see the red tomatoes hanging on the branches that climb to the top of the greenhouse along strings.

"Try this, my tomatoes are green and pollution-free, sweet and juicy, it's a taste of vintage" said Zhang Hongjun.

The tomatoes taste really good.
You can hear some noise from time to time in the greenhouse. As the sun shines and the temperature in the greenhouse exceeds the set temperature, the plastic "coat" on the roof is automatically rolled up for ventilation, and the data will be sent to Zhang Hongjun's mobile phone.

"At present, smart management covers the entire ecological park, we have automatic temperature control system, and smart drip irrigation, and we can control the environment in the greenhouse through a mobile phone." Zhang Hongjun showed the data of temperature and humidity on the management software on his mobile phone.

High-standard greenhouses provide an excellent environment for high-quality and standardized planting. "We can plant 5 to 6 seedlings in a space where only 3 ones can be planted in an ordinary greenhouse. We can pick the vegetables every other day even in winter, which is 5 to 7 days shorter than that of the ordinary greenhouse, and the picking cycle can be as long as 1 year. In addition, we can use the space outside the greenhouse to plant vegetables in summer, so that the high temperature inside the greenhouse would not affect the vegetables." said Zhang Hongjun, adding that the yield and quality per mu increased through scientific and technological means such as increasing planting density and extending the picking period, and the added value of vegetables increased too.

In order to meet the demand of the consumers in the mid-to-high-end market, Zhang Hongjun introduced high-quality varieties from other country, improving planting techniques, making full use of residual fruits, stems and leave to make enzyme fertilizer, and mixing with other organic fertilizers and water for the seedlings, which makes an ecological cycle of the planting system. At the same time, he supplemented nutrients such as calcium and fish protein, to improve planting efficiency and productivity.

A bumper harvest does not mean a good income though, good products also need good marketing. But Zhang Hongjun does not worry about the sale at all, he just focuses on his planting.

The newly-planted cucumbers can be sold within 40 days, and customers have already paid 50,000 yuan in advance, and the price is 3 yuan/kg. Zhang Hongjun said that all the vegetables in the four greenhouses have been booked out. The annual yield is expected to be 100,000 kg this year, and the annual income will reach 1.8 million yuan, both will double last year.

Zhang Hongjun said that the products from these four greenhouses can only supply part of the Beijing market, and he is accelerating the expansion of his ecological park. "We are negotiating with two companies, expecting to attract investment of 50 million yuan, transfer 500 mu of land, and build 50 high-standard greenhouses."

International Channel
http://www.qhdnews.com/en/index/
International Channel Mobile Client
http://www.qhdnews.com/en/mobile
Chinese manuscript