Source: Xinhua Net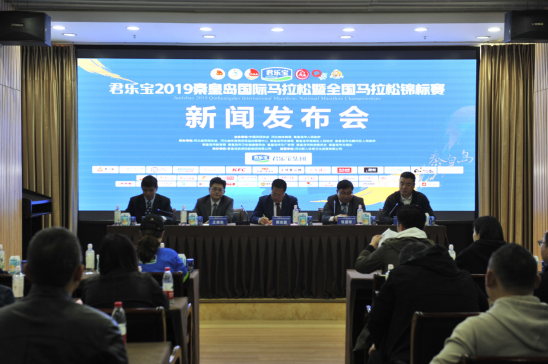 The press conference site (photo by Guo Nan)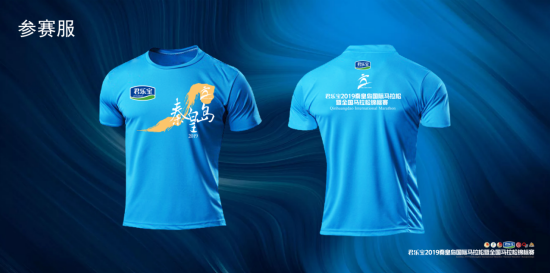 The T-shirt of the full marathon runners.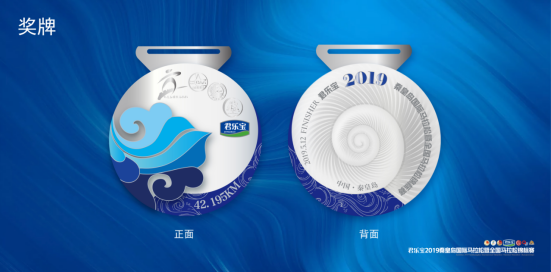 The medal of the event
On the morning of April 23, the first press conference on 2019 Qinhuangdao International Marathon & National Marathon Championship (abbreviated for "Qin Ma") was held at the press conference center in Qinhuangdao Municipal People's Government.

At the press conference, Zhou Yongxin, deputy director of the Qinhuangdao Sports Bureau, introduced the achievements of the marathon in recent years and the preparations for this year. In the answer to the reporter's request, Wang Haidong, deputy director of the Qinhuangdao Tourism, Culture, Radio and Television Bureau, responded to the questions on the tourist preferential policy for this year. A total of 18 A-level scenic spots provide services for the full marathon runners who can go sight-seeing to the designated scenic spots for free in certain period of time. Subsequently, Qiu Weinong, the vice president of Junlebao Group, which named the event, introduced the supporting work for this event. Li Tong, the general manager of Hebei Yeren Sports Culture Development Co., Ltd., the marathon operator, explained the features and highlights of this event.

It is reported that the Junlebao 2019 Qinhuangdao International Marathon & National Marathon Championship themed with "Passionate Marathon, Happy Qinhuangdao" will start on May 12 at the Olympic Sports Center in Qinhuangdao. The competition was jointly hosted by China Athletics Association, Hebei Provincial Sports Bureau and Qinhuangdao Municipal People's Government, and operated by Hebei Yeren Sports Culture Development Co., Ltd. The event will be organized in accordance with the gold medal standards of the China Athletics Association.

2019 "Qin Ma" was divided into two courses: full-time running (42.195 km) and mini-running (5 km). 10,587 runners registered for the full-time running on the official website of the event, including 37 foreign runners from 12 countries including Ethiopia, Kenya and Germany, etc., and 17,000 for the mini-running, including 8 foreign runners from South Korea, Australia, the United States, the United Kingdom, and Japan.

In addition, the 2019 "Qin Ma" will start from a new point and move toward a higher goal. After careful preparation by the organizing committee, this event has been optimized and upgraded in all aspects, the support is more adequate, the supply is more abundant, the service is more perfect, and more sprinkler systems are set on the track. The supporting activities such as sailing and windsurfing marathon, the activity of Mother's Day and so on will be held simultaneously, which will enhance the engagement and experience of the marathon.

As a window to promote Qinhuangdao to the world, the "Qin Ma" will continue to improve the development of urban industries, enhance the urban economic construction, and enrich the cultural connotation of the city. It has played a positive role in promoting the implementation of the "four cities" strategy and realizing the development goals of "strong coastal city, beautiful port city and international city".

http://www.qhdnews.com/en/mobile
http://www.qhdnews.com/en/index/
Chinese manuscript
http://www.he.xinhuanet.com/zfwq/qinhuangdao/2019-04/23/c_1124404348.htm