Source: Qinhuangdao Daily

On the afternoon of June 1, Mayor Zhang Ruishu led the responsible officials of the Municipal Government Office, the Municipal Agriculture and Rural Bureau and other departments and units, to conduct a special inspection on the development of the cherry industry in Shanhaiguan District and Haigang District.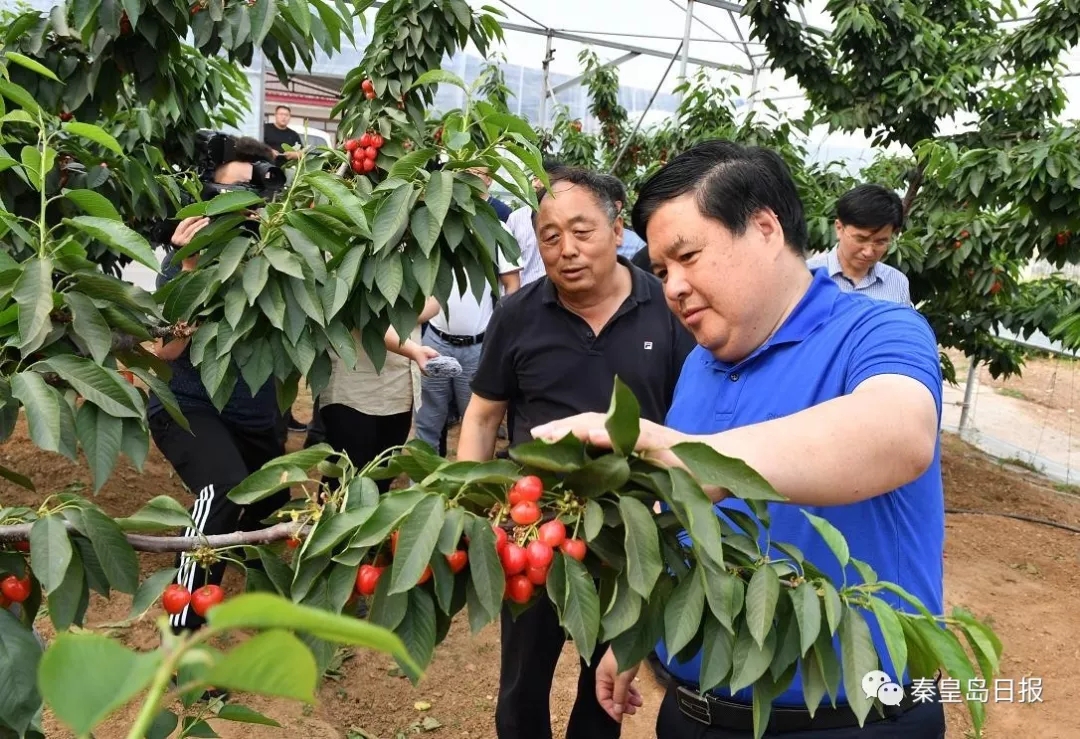 Photo by reporter Liu Xiao
It is reported that cherry planting in our city is mainly distributed in Shanhaiguan District and Haigang District. In recent years, with the support and guidance of the municipal party committee and the municipal government, the cherry industry is developing from large-scale, standardized planting to green, quality and brand. At present, the planting area in two districts has reached 43,000 mu, with the annual output of over 30,000 tons, and the output value of more than 500 million yuan.

"Do you fertilize or spray pesticides on the cherry trees? " Zhang Ruishu inquired Feng Guicai, the head of Shihe Big Cherry Professional Cooperative in Shanhaiguan District, when he came to the Xiushan Picking Garden to learn more about the scale and technical management of cherry planting, standardization management of the cooperatives, and the planting situation of ordinary big cherry and unseasonal one. He said that cooperative should give full play to their own advantages and guide farmers to adhere to standardized planting and management in accordance with the requirements of green and pollution-free, and earnestly improve their awareness of standards and brands.

In the process of the inspection, Zhang Ruishu emphasized that as a national geographical indication protection product and a geographical indication certification trademark, Shanhaiguan Big Cherry has a high reputation in the province and even the whole country. Shanhaiguan District and Haigang District should strengthen the construction of the geographical indication system, enhance the brand awareness and standard consciousness of the growers, and improve the brand competitiveness and influence of Shanhaiguan Big Cherry in the industry. It is necessary to increase investment in science and technology, change the mode of agricultural development, promote social capital to the countryside, and vigorously develop the unseasonal cherries with high scientific and technological content and high product value, so as to continuously increase the income of the farmers; actively explore the economy under the tree, vigorously develop agriculture under the tree such as strawberries and Chinese herbal medicines, to improve the land utilization rate of cherry plantations; strengthen the development and utilization of cherry fruit and cherry tree branches, actively develop cherry drinks, and strive to explore cherry tree products such as cherry tree mushroom and cherry tree fungus, extend the cherry industry chain, and promote the high-quality development of big cherry industry in the whole city.

International Channel
http://www.qhdnews.com/en/index/
International Channel Mobile Client
http://www.qhdnews.com/en/mobile
Chinese manuscript
https://mp.weixin.qq.com/s?__biz=MzAxNzMzMTg2MQ==&mid=2650177773&idx=3&sn=6ae662b3ee374d02174f2e03aa6fb27d&chksm=83e50317b4928a01bbf99b56c0d6aaf578178752b834bdc7ce18f83662ab5acf13bc8438afad&mpshare=1&scene=1&srcid=&pass_ticket=kuLVqDwU3i1O9CDYKrfJlZLdq1iya2tWUmJk50ABvPk%3D#rd