Source: Qinhuangdao Evening News

Reporter: Guo Na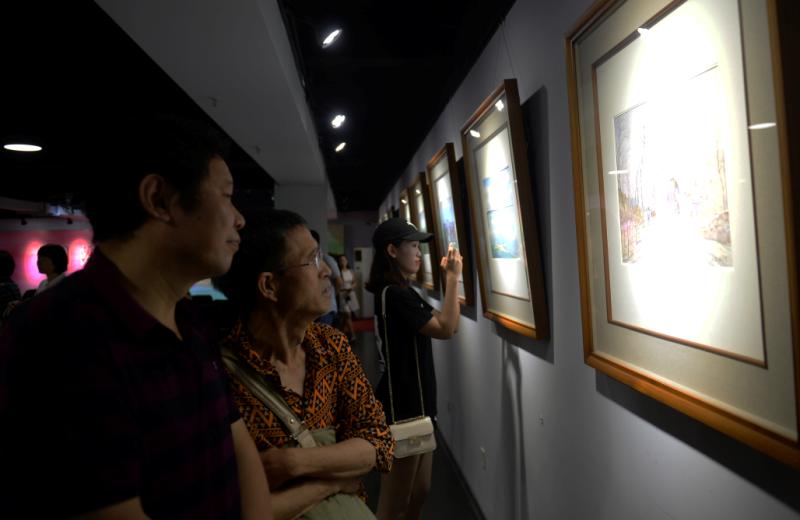 In order to promote the exchange of painting and calligraphy art and enhance the quality of cultural life of the public, Sun Zhengxue and Ma Shouming's painting art invitation exhibition, themed with "Tongyuan(Same Origin) when watercolor meets ink painting, was unveiled at the Qinhuangdao Zhenshe Art Museum on August 10, bringing artistic enjoyment to the public in summer.
A total of nearly 60 masterpieces by Sun Zhengxue and Ma Shouming are on display at the exhibition. These works are fresh in style, changeable in brushwork, profound in meaning, and elegant in taste, which fully demonstrates the profound artistic accomplishments of the two artists. The exhibition promoted the traditional Chinese culture, built a platform for the city's painting and calligraphy art exchange, and deepened people's understanding of the traditional culture.

Sun Zhengxue is a professor, master tutor from Fine Arts College, Shanghai Normal University, and a member of the Chinese Artists Association. His oil paintings, watercolor and powder paintings have won gold, silver, bronze, and excellent awards in national art exhibitions. His works have been included in the Complete Works of Modern Chinese Art · Watercolor Volumes, Chinese Contemporary Art 1979-1999 Watercolor and Print Volumes, Chinese Contemporary Art Illustrations 1979-1999 Watercolor Book, Chinese Watercolor History, Chinese 100 Years Watercolor Collection and other documents. His works are collected in Asian Museum of Watercolor Art, Suzhou Art Museum and Ningbo Art Museum.

Ma Shouming studied under Tong Zhongtao, Chen Xiangxun, and He Jialin. His work "Gaoshan Liushui"(High Mountains and Flowing Waters) and "Yansai Qiuse" (Autumn in Yansai) were exhibited at Chinese Painting Research Institute (now the National Painting Academy of China). In 1994, his work "Qushui Huange"( Singing on the Waterside) was officially exhibited and collected at the National Art Museum of China. In 2001, his work "Suzhou Jiyi" (Suzhou Memory) was selected in the Fine Collection of Chinese Paintings, and collected by Zhongguohua Yanjiuyuan (Chinese Painting Research Institute).

The exhibition will last until August 17, during which the general public can go to visit at the Qinhuangdao Zhenshe Art Museum for free.

International Channel
http://www.qhdnews.com/en/index/
International Channel Mobile Client